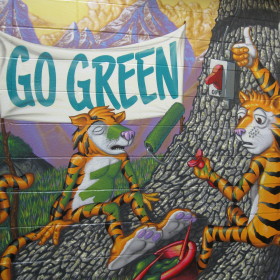 Each school year, we offer a variety of clubs for students to take part in if they choose. These clubs will change each year due to student interest and staff availability to host. Parents are also welcome to host a lunch hour or after school club. Please speak with Mrs. Harte to work out the details. The following are clubs are typically offered at Torquay:
Eco-Tigers Environment Club: This club is open to students in grades three, four and five. Students meet regularly to work on eco-friendly projects around the school and in the community.
Recycle Team: We thrive to be a Litter-less school. We ask students to bring their snacks and lunches in containers that can be reused. We encourage parents to send their child to school with a reusable water bottle instead of juice boxes. For those times when their is wasted to be collected,. we have equipped each of our classrooms with a recycle tower, compost bin, blue box and tiny garbage can!
Students learn that most everything can be recycled. Each Friday members of Grade 4 Recycle Team help students from each classroom deposit their recyclable materials at one of our two stations. All the collected materials our collected by community partners. It is remarkable the amount of materials we have stopped sending to the landfill since the introduction of this program.
Chess Club: When the weather starts to turn questionable, we start up the Chess Club. Students meet once a week at lunch time to learn new moves and play friendly games.
Student Leadership or the TES Team: Together Everyone Succeeds! The TES Team is made up of our grade four and leadership  students. We rely on the TES team do do a lot of work around our school helping out in many areas. TES Team members have the opportunity to be lunch monitors, crossing patrollers, playground equipment monitors, set up and take down assemblies as well as host assemblies, make morning announcements, tour new students and be door greeters at performances. All TES Team members were treated to a special lunch at the end of the year to thank the members for all the hard work that they do!