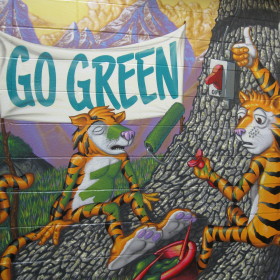 Each school year, we offer a variety of clubs for students to take part in if they choose. These clubs will change each year due to student interest and staff availability to host. Parents are also welcome to host a lunch hour or after school club. Please speak with Ms. Bender to work out the details. The following are clubs are typically offered at Torquay:
Eco-Tigers Environment Club: Eco-Tigers is open to students in grades three, four and five. Students meet regularly to work on eco-friendly projects around the school and in the community.
Student Leadership or the TES Team: Together Everyone Succeeds! The TES Team is made up of our grade four and leadership  students. We rely on the TES team do do a lot of work around our school helping out in many areas. TES Team members launch spirit days, encourage community involvement, make morning announcements, tour new students and be door greeters at performances.